What Really Makes Me Laugh Essay Examples
NPR producer Erin Killian started keeping diaries when she was 8 years old. When her apartment burned down, she realized just how much she cherishes them. Erin Killian/NPR hide caption
toggle caption
Erin Killian/NPR
NPR producer Erin Killian started keeping diaries when she was 8 years old. When her apartment burned down, she realized just how much she cherishes them.
Erin Killian/NPR
Whenever I want a good, hearty laugh, I pull out my very first diary — and I laugh at myself.
I started writing in the pink-, yellow- and blue-striped diary with a redhead buxom cheerleader on the cover when I was 8 years old. I called my diary Sue. I have no idea where the name came from — but I was loyal to her and told her my feelings. And she did her best to keep my secrets — Sue had a lock and a little key.
"Dear Sue, Today I had a mad day. I could not sleep over at my friend's house! I am mad!!!! And I don't just mean mad! …And I HATE my bro because he peeked in you, Sue. Well, good night Sue."
I divulged all of my deepest secrets to this diary — secrets I would never tell an adult.
"Dear Sue, I am in love with Patchie [a boy in my third-grade class]. He's cute. He's kind, conciterate [sic], cute, charming, fair and funny. He talks to me a lot. I hope he likes me because I like him. See you Sue."
I find Sue so hilarious because I can't remember my thought processes as an 8-year-old and it surprises me every time I crack it open. In Stumbling Into Happiness, Dan Gilbert wrote: "Our memories of past experiences are part illusion. The brain isn't large enough to record everything we experience so it fills in the gaps with imagination."
Since memories can't hold on to every rich detail, I need Sue to help me remember how I saw the world — and every time, it makes me laugh or feel sympathetic, as if I'm not actually reading my own words.
Sue was my friend. She listened to me, and didn't judge. When I was 10 and living in the Detroit suburbs, I told Sue I was "in love" with Growing Pains star Kirk Cameron. I told her I thought I was going to get a bra soon (I didn't get a bra until a few years later). And I wrote that I wasn't popular, and I wasn't sure why the "popular girls" invited "a nerd like me" to a birthday party.
My Diaries, My Confidants
Later diaries are equally as funny and as heart-wrenching. But as an awkward teenager navigating cruel middle-schoolers — including one who called me "Giraffe Neck" and another who called me "Hairy" because I didn't shave my armpits yet — my journal was my space to be me when it was really hard to be me. It was my place to make sense of the world. Reading them today, I'm surprised that I knew as much as I did as a baby-faced teenager.
First, it seems I was politically aware. I wrote about being afraid that the U.S. was going to war with Iraq after that country invaded Kuwait. I called Saddam Hussein a "stubborn 'ole jerk" and a "sycho." And I wrote that I was terrified of my trip to Washington, D.C., because of "the terrorists."
"I'm getting syched out about the war," I wrote on Feb. 7, 1991. "Terrorists are attacking England and Turkey and purposely killed American people there. I think they are headed here and I go to D.C. in a week and three days." And then, four days later, "If I die because of the terrorists and my parents read this, I love them and my brother."
NPR Producer Erin Killian Coburn Dukehart/NPR hide caption
toggle caption
Coburn Dukehart/NPR
I was sexually aware. I wrote about being excited to go to school to see the boys' "hot bodies." And I wrote in explicit detail about the first sex act I heard of [not fit for National Public Radio]: "I think that is really sick," I wrote. "I haven't even kissed a guy before. But I want the first time to be special."
I was existentially aware: "There are two questions that I can't really understand: Why did God make this world? And where did God come from?"
I wrote in journals until I got a computer in my early 20s. Because I was a faster typist than writer, I started to type most of my thoughts and feelings, though I did keep a leather-bound journal where I wrote about Sept. 11, 2001, the execution of Oklahoma bomber Timothy McVeigh and the sudden death of my grad school professor.
Sue — And More — Survive
One of the first nights I hung out with my sister-in-law Beth in Washington, D.C., nearly six years ago, we sat at the bar, and my older brother Sean read from Sue with a slight lisp. We screamed with laughter, the kind of laughter that squeezes your chest and hurts your face. From that point on, Beth has called me Sue.
Two years later, I was startled awake at 5 a.m. by a loud popping noise. When I looked out the window, the deck below me was on fire. I turned circles in my room like a dog chasing its tail before calling 911 and running out.
The fire caught the vinyl siding of the house, and flames blew out of my windows.
When the firefighters gave me the OK to see my room, I stood with my mouth open as the soot burned my lungs — it was evident I had lost nearly everything. The firefighters had tossed my charred belongings out the blown-out windows — two gaping holes: my computer with years of journaling I never recovered, my winter sweaters, everything. Soot coated the walls, and papers floated in an inch of water on the wood floors. I ran out in the stifling August heat to my front steps, put my head in my hands and sobbed.
My brother and sister-in-law hurried over after I called them. My brother brought his camera to document the carnage, and went around back to the stinking pile of rubbage.
I went back to face my room — and that's when I saw Sue, along with my other diaries, unscathed on my bookshelf. I picked her up and ran to the hole in the window and yelled down to my brother, jumping up and down: "Sue made it! Sue made it!"
I've since realized that I don't need very many physical things to be happy. But the document of my childhood — in my words, revealing myself as I used to be — is one of the most valuable things I have. They're like pictures, but they reveal thought processes I can't remember having.
So when we forget as adults what teenagers are thinking or going through, diaries and journals can be a road map to understanding.
And they can serve a lesson for every day: Life is rich if you can laugh at yourself — even if it's your former self, one you barely remember.
Share Your Diaries
Did you keep a diary as a girl? Are they funny or heart-wrenching or both? NPR would like to hear from you — send in photos of your diary (or even your mother's or grandmother's diary) and tell us your story.
How To Submit:
Go to Flickr and sign up. Find the Hidden World of Girls group. Join the group. Find the photo you would like to upload. Between the title of the photo and the photo itself, you'll see a series of tabs. Click "Send to Group," then select "Hidden World of Girls."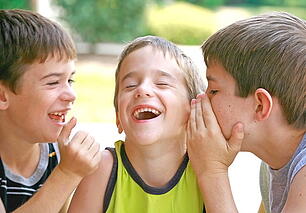 There is a lot of truth to the old saying, "Laughter is the best medicine." Laughing makes you feel good, head to toe, and there is scientific evidence that it has powerful health benefits. According to the About.com stress management blog, laughter:
• Reduces stress hormones and increases health-enhancing hormones, protecting your body from stress and illness
• Provides a release for emotions
• Gives your abs, shoulders, diaphragm and heart a good workout
• Distracts you from negative emotions and gives you a good dose of perspective
• Benefits the moods of others around you
There is even a movement called Laughter Yoga, which has spawned more than 6,000 laughter clubs worldwide and encourages people to "laugh for no reason" and recapture childlike playfulness. A great article in Yoga Journal gives a firsthand account of Laughter Yoga and explores some of the science behind laughter's medicine:
… a handful of scientists began researching the healing power of laughter.
One of them was William Fry, then a psychiatrist at Stanford University. In a career that spanned more than 50 years, Fry documented some of the health benefits of what he calls "mirthful laughter." In a series of studies, Fry and his colleagues found that laughter increases circulation, stimulates the immune system, exercises the muscles, and even invigorates the brain. Other researchers have found that laughter reduces stress hormones and may even help prevent heart disease.
4 Laughter Journal Writing Prompts
How often do you laugh? When was the last time you guffawed so hard your belly hurt? Take a look at your giggling habits with these fun, lighthearted journal writing prompts.
1. What can always make you laugh, even when you are having a frustrating day? Do you turn to YouTube videos, board games, slapstick comedies or your pets when you need laughter in your day? Make a list of your go-to sources of laughter.
2. Who are the people in your life who consistently crack you up? Your spouse, your best friend, your little sister? Write down the top five people you turn to when you need a good chuckle, and recount one story that illustrates each person's sense of humor.
3. What is the funniest thing that has ever happened to you? Choose a story you can barely tell out loud without convulsing with laughter, and write it in your journal.
4. What is your favorite funny movie or television show (something you can watch over and over and laugh every time)? Give an example of what makes it so hilarious.
What did you write in response to one of these journal writing prompts? Share your comments!
Need some more, like 114 Journal Writing Prompts? Check this out.